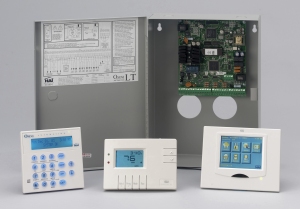 FEATURES & SPECIFICATIONS
HAI Part Number 21A00-1
Current Firmware Version: 2.8
The OmniLT is an automation controller with integrated security that is an ideal and economical choice for homes, townhouses, condos, apartments and small businesses.
The system provides enhanced comfort, safety, convenience and energy savings by coordinating lighting, heating and air, security, scenes and messaging based on lifestyles and schedules.
This model comes with an Omni LT controller with enclosure, RJ31X jack and cable, manuals, and accessory kit.
At the heart of the OmniLT is HAI's Advanced Control Programming (ACP) system that allows features to be programmed in the controller.
OmniLT comes with several standard modes, such as Day, Night, Away and Vacation, and can accept customized scenes such as "Good night", "Good morning" or "Entertainment" that set temperatures, lights and security to the desired levels with one touch. Security and temperature sensors can be used to adjust lights, appliances and thermostats, monitor activity and track events. The home can be controlled and programmed by the dealer or the homeowner, on-site or from a remote location. Easy to read LCD consoles show status and allow control and scheduling of lighting, security, temperatures and accessories.
OmniLT has a built-in serial interface for connection to the Internet via HAI Web-Link II, personal computers and options like touchscreens, voice recognition and home theater controls. OmniLT features telephone accessibility from within the home or a remote location with clear voice menus for convenience and simplicity. The built-in digital communicator reports alarm events to a central station and can dial up to 8 additional phone numbers chosen by the home owner for voice notification.
OmniLT supports numerous Omni family accessories, including a complete line of fully communicating thermostats.
The OmniLT for Structured Wiring Enclosures (HAI Part Number 21A00-11) fits in Leviton and "open house" type Structured Wiring Enclosures. This model comes with an OmniLT controller on a mounting plate, powerline transreceiver, RJ31X jack and cable, manuals, accessory kit, and wiring label for enclosure door.
The Omni LT Board Only may be purchased with HAI Part Number 21A00-2.
Automation Features
Security Features
Telephone Control Features
Digital Dialer Features
Voice Dialer Features
Reliability Features
Ease of Use Features
Technical
Computer Interface
Options
Approvals
AUTOMATION FEATURES
Controls up to 26 different lights, appliances or groups: 16 via power line carrier control modules or optional ALC hardwire lighting modules, 2 (expandable to 10) hardwired to OmniLT controller
Temperature control for 2 HAI Omnistat thermostats
Dedicated thermostat interface (does not use a zone or output) sends time, outdoor temperature to thermostats for display
Time, Sunrise, Sunset, outdoor temperature display
Status display (On, off, level, mode, heat, cool, fan, temperature, etc.)
Temperature control for other items or existing thermostats using up to 8 Temperature Sensors or PESMs
2-Way X-10 allows OmniLT to receive signals for use as program triggers, features collision detection and retry for reliability
Lights can be set to scenes of varying brightness, with Direct Dim and Scene Support for advanced home theater lighting control
Lights, control outputs, temperatures and security modes can be scheduled by time, sunrise, sunset, and date or day of week and various system events.
100 lines of non volatile control program storage
Commands (immediate and scheduled) include:

on, off, dim, brighten, level, (and ramp rate for ALC)
timed on, off, dim, bright
change settings, mode, fan for thermostats
change system modes, zone status, flags
display a message on console, place a phone call
activate a button (macro)

Event button capability ("Scenes" or "macros") allows a series of commands to be executed at once, to create lighting scenes, house modes, adjust temperatures, etc., initiated by:

a console command
a telephone command
a zone opened or closed
a mode change (i.e. day, away vacation)
a particular user code entered
a time schedule
other internal or external events

Scheduling commands and Event buttons can be conditionalized (made to execute only if the condition is true) by sunrise/sunset, time clocks, zones open or closed, mode, flags, more
Expansion port for future CEBus, Echelon or other interface
SECURITY FEATURES
8 Zones, expandable to 24, fully configurable for:

full selection of security zone types
outdoor temperature
energy saver module
temperature control and/or alarm
auxiliary input for automation use (without security)
keyswitch
zone 8 supports 2 and 4 wire smoke detectors

2 Hardwire Outputs, expandable to 10, fully configurable for:

control output for automation
smoke detector power and reset
temperature control
long range radio
armed, OK to arm, and others

LCD Consoles

surface, flush and universal models available.
4 wire connection, independent operation, 4 maximum.
configurable beeper, viewing angle, backlighting

Five modes: off, day, night, away, vacation
8 user codes with selectable authority levels
User codes can be made valid during certain times and days only, for maid, service, etc.
All lights on when alarm is tripped to frighten intruder away
Outdoor lights flashing when alarm is tripped to alert neighbors and police
Entry and Exit delays user programmable
Entry delay can be doubled or quadrupled on a zone to accommodate garage and back doors.
Pre-alarm beeper in console gives owner time to turn alarm off before outdoor siren is activated
Supervised siren output detects shorted or cut wire to siren
System Announces type and location of alarm with optional 2-Way Voice Module
Auto bypass feature means alarm won't go off unexpectedly if door or window is left open when the system is armed.
Trouble conditions indicated in English on display for: zone and system trouble, AC Power off, battery low, phone line dead
High Security mode for commercial applications
All Fire and Burglary zones are fully supervised
Event Log with Time & Date
TELEPHONE CONTROL FEATURES
Works with Touch Tone phones inside or away from the premises with access code
Compatible with answering machines, answering services
From any phone, you can:

change modes
change temperatures
arm/disarm security, bypass and restore zones
activate macro buttons
hear complete status of system
hear event log and help menu
Lockout feature discourages tampering with system by phone
Listen-in / talk to premises with optional two way voice module
DIGITAL DIALER FEATURES
Contact ID, 4/2 and 3/1 formats, dual round compared
Two phone numbers with two account numbers
Opening/Closing reports by user code
VOICE DIALER FEATURES
Completely solid state, no tape or moving parts to wear or break
Voice dialer is delayed by 5 minutes if digital dialer is used to allow central station to call back
Dials up to 8 user programmable numbers and reports type and location of alarm
Called party can cancel dial out by entering code
OmniLT can call pagers, and be programmed to make a voice call based on a non-alarm event (example: call when children arrive home; call if "no activity" for elderly care)
RELIABILITY FEATURES
Designed for continuous trouble-free operation
Verifies smoke detectors by cycling power and confirming smoke alarm
System reads resistance of each zone independently to detect trouble due to faulty sensor or wiring before it causes false alarms
Pulse count feature precludes false alarms due to static, transients and lightning
Programmable delay to preclude false alarms from user error
All inputs and outputs protected against static, RFI, surges, and lightning by use of impedance limits, spark gaps, TRANZORB surge arrestors, RC filters, MOVs, bypass capacitors and grounded shields
Watchdog timer, non volatile EEPROM storage for ALL programs, self diagnostic software, low voltage cut out, self protecting power supply for system integrity
EASE OF USE FEATURES
Text descriptions for all zones, units, codes, and macros
Voice descriptions on telephone
Console display shows menus to guide users during use
Minimum keystrokes for common functions
Quick mode change feature
Optional wireless keyfob for arming and control available
Web Browser Graphical Display (HAI Web-Link II) available
TECHNICAL
Power supply: Requires 16 VAC transformer, 50/60 Hz
Recommended battery: 12 V, 4 Ah sealed rechargeable
COMPUTER INTERFACE
Built in Omni-Link serial interface, with jumper selectable RS-232 or RS-485. Can be used for programming, connection to HAI Web-LinkII, personal computers, Connectivity Partner options
Built-in modem for local or remote (with security code) access to system using personal computer
Everything in Omni can be programmed using HAI PC Access software for personal computer
OPTIONS
HAI Web-Link II Internet and Local Area Network software (Windows)
HAI PC Access configuration, monitoring and programming software (Windows)
2-Way Voice Module
16 Zone / 8 Output hardwire expansion card
ALC Hardwire Lighting Control Module
APPROVALS
UL Residential Fire and Burglary
FCC Part 15J, Part 68
IS-60 (Canada)
California State Fire Marshall
CE (European Standard)
Click here to contact us for more information.